My name is Pedro from Northern Illinois originally from Puerto Rico...
I'm new to African Cichlids...I just setup my 90 gallon tank about 6 weeks ago... Mainly Nbunas about 20 of them and 6 Ob peacocks and pleco.
My tank is a 90 gallons, nothing to special. Filtration 2 aqua clears 110, Aqueon 950 wave maker and 300 Eheim with some hide spaces in it and some plants...
I'll like to hear from all of you Cichlids experts out there to continue learning more in this hobby.
Thanks,
Pedro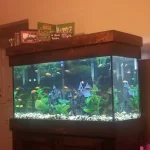 Last edited: