Fluval FX6 Canister Filter Review and Specifications:
After running the Fluval FX6 Canister Filter for two months on my 125 gallon aquarium that's heavily stocked with African Cichlids I thought I'd write a review on the filter.
So far I'm very happy with the performance of the Fluval FX6. The output flow is still nice and strong after two months so I haven't taken it apart and cleaned it yet.
The Fluval FX6 was very easy to setup although they could include more ceramic ring media with it. I added more to fill the middle and bottom basket but you could get by with what's included with the Fluval FX6. There's plenty of sponges in the Fluval FX6 so between the sponges and the ceramic rings you have a lot of area for water filtration and for beneficial bacteria to grow. The way the stackable media baskets are setup you have a lot of options for using different media, filter pad, sponges, etc. I purchased 2 of the Fluval FX6 canister filters with intentions of running them both on my 125 gallon aquarium but after two months I don't think I need them both on the tank. At some point I may add the second FX6 filter to the aquarium. If you're looking for a powerful aquarium filter that can be setup with a lot of media I would recommend you take a look at the Fluval FX6 canister filter.
Fluval FX6 Canister Filter Specifications:
For fresh and saltwater aquariums up to 1500 L (400 US Gal)
Building on the hugely successful FX5, FX6 is Fluval's next generation filter workhorse, with all the power and reliability that Fluval FX filters are known for–plus more. FX6 has an amazing range of advanced features, all designed to make fishkeeping so much easier and more convenient.
FX6 is a super capacity yet compact canister filter that pumps out 3500 liters (925 US Gallons) of water an hour and has an astounding media capacity that produces cleaner and healthier results than most competitive filters.
The FX6 draws in water and suspended debris through its clog-proof intake strainer and sends it through a three-level foam pre-filter which traps most particulate matter. It proceeds to flow through multiple levels of custom media configurations to be processed and cleaned. As the powerful pump returns water to the aquarium, the flared design of the adjustable output nozzle disburses it in multiple directions, creating currents that help direct waste towards the intake for filtering. This intricate process results in a continuous flow of filtered water.
Filtering material can easily be placed in a removable stack of media baskets, which is at the heart of Fluval's multistage filtration. The baskets are precision-engineered to eliminate water by-pass, making filtration more efficient.
The baskets can hold a total of 5.9 liters of media and can be stacked in the precise combination of layers that will work best for your aquarium. Each one is lined with a foam insert for effective mechanical pre-filtering. Instant-release T-handles let you lift and separate the baskets quickly and easily, making routine maintenance simpler.
Smart-Pump Technology
Fluval FX6 also features Smart Pump Technology, which provides optimal filter performance. This advanced technological feature employs an electronic circuit board that continually monitors the pump. Impeller speed and force are constantly measured to ensure powerful output and energy efficiency. It also manages the filter's self-starting feature and evacuates air that may enter or build up within the filtration system. On a 12-hour cycle, the pump will pause and allow trapped air to escape, ensuring the best filtration efficiency at all times. Fluval FX6 Smart Pump Technology is the key to providing optimal filter performance. This self-primimg system offers plug-in-and-start convenience. Smart Pump employs an electronic circuit board to continually monitor the pump.
KEY FEATURES:
•Multi-stage filter pumps out an astounding 3500 L (925 US Gal) of water per hour
•Improved motor technology provides better performance while consuming 10% less electricity than previous generation
•Smart Pump™ – advanced microchip technology continuously monitors and optimizes pump performance
•Self-starting – just add water, plug in and Smart Pump™ will take over. Trapped air auto-evacuated every 12 hours to ensure maximum efficiency
•Easy water changes eliminate need to lift heavy buckets. Simply attach hosing to output (Kit sold separately) and Smart Pump™ does the rest
•Removable, stackable media baskets eliminate water bypass and hold a total of 5.9 L (1.5 US Gal) of media
•All filter media included – mechanical, chemical and biological
•Aqua-Stop valves with leak-proof Click-Fit attachment system
•Valves positioned at convenient 45-degree angle for easy installation and rotation
•Anti-clog, telescopic strainer ensures continuous water flow
•Multi-Directional Output nozzles can be fully adjusted to create customized water flows
•Purge Valve with drain hose for easy maintenance and flushing of canister
•Rubberized feet help ensure quiet operation
•53 cm (21 in) tall design – easily fits under most aquariums
•Made in Italy
•For use in freshwater and saltwater aquariums
Media included:
Biomax ceramic rings
Media bags x 2
Cabon Pad x 1
Filter Foam x 6
Bio Foam x 2
The Fluval FX6 is one of the highest capacity cannister aquarium filters on the market right now when it comes to the best aquarium filters. The Fluval FX series is known for better strength and durability. You would get a lot more performance as compared to some other models in the industry.
Even with the high capacity power, you still get a model that does not need a lot of maintenance. With of impressive power the Fluval FX6 will easily sweep the whole tank removing the debris and dirt thus leaving the tank clean in less time. With more debris removed, you do not have to keep cleaning the aquarium as often.
The high water output can make the model usable for the different sizes of aquariums. The Fluval FX4 offers up to 5 filtration stages, while the Fluval FX6 can do up to 6 stages. With all the filtration media, cleaning your aquarium water is now easier to maintain. The water path is made to be sequential so that cleaning is faster and better.
You still get a multifunctional utility valve important for draining the canister if you have to perform a seamless water change. You can now drain and easily refill the water directly from the filter without disturbing the fish. You should now spend less time and effort getting the exchange done without affecting the tank setup and inhabitants.
Pros
It offers large volume
More filtration media
Cons
Specifications:
Flow rate: 2130 liters (563 US Gal) per hour
Pump output: 3500 L (925 US Gal)
Mechanical Area: 2,100 cm² (325.5 in²)
Media Basket Capacity: 5.9 L (1.5 US Gal)
Filtration Volume: 20 L (5.28 US Gal)
Head Height (max.): 3.3 m (10.8 ft)
Wattage: 120V/60Hz – 43 W and 230-240V/50Hz – 41 W
Dimensions (L x W x H): 40 X 40 X 53 CM (15.75 X 15.75 X 20.8 IN)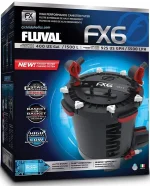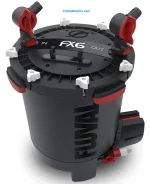 Last edited: